Brett M. Naumcheff, M.S., J.D.
Police Attorney Coordinator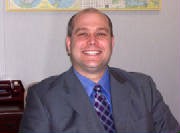 Brett M. Naumcheff is an attorney admitted to practice before the United States Supreme Court, the Sixth Circuit Court of Appeals and all Michigan State Courts.  He retired from active law enforcement after 27 years where he served as an Officer, School Liaison, Detective and Police Legal Advisor.  His client base includes public sector police departments and public and private sector unions.  Naumcheff serves as the PLEA Police Attorney Coordinator.  In that capacity he is the initial contact on critical incidents across the United States and coordinates the communication between the involved officer and their plan attorney.  He has represented police professionals in State and Federal Court.
In addition to responding to critical police matters, Brett teaches Criminal Law and Police Procedure, Officer Involved Shooting Law and Policy, Investigating Police Use of Force, Police Discipline and Discharge Law, School Resource Officers Law and Practice and the Legal Aspects of Conducted Electronic Weapons.  In that he has been personally involved in deadly force incidents, his understanding of all sides is a benefit to our members.